Carlson CRx3″ 500 Meter Range
Carlson CRx3″ 500 Meter Range
1 ZRT82 LRBT Radio Handle
1 ZBA400, Li-Ion Battery 4.4Ah, rechargeable
1 ZTR101 Tribrach without optical plummet
1 ZCH201 Charger for ZBA200 & ZBA400
1 ZDC301 USB Cable
Overview
The Carlson CRx series of Robotic Total Stations provides a choice of 1″, 2″, 3″ and 5″ angular resolutions to match the application requirements.
The models are recognizable as the CRx-1, CRx-2, CRx-3 and CRx-5, and all feature the same technologies for a seamless user experience. The instruments are combined with SurvCE or SurvPC on a field computer to access the full range of Carlson survey features for efficiency and automation in a familiar environment. In addition, users have the option for installing SurvCE Basic on board for operation with the instrument only. Customers benefit from technical guidance and support for both the robotic total station and SurvCE or SurvPC from one company.
CRx Robotic Total Stations are used with SurvCE or SurvPC in a wide range of applications requiring precise angle and distance measurements such as surveying, engineering and construction.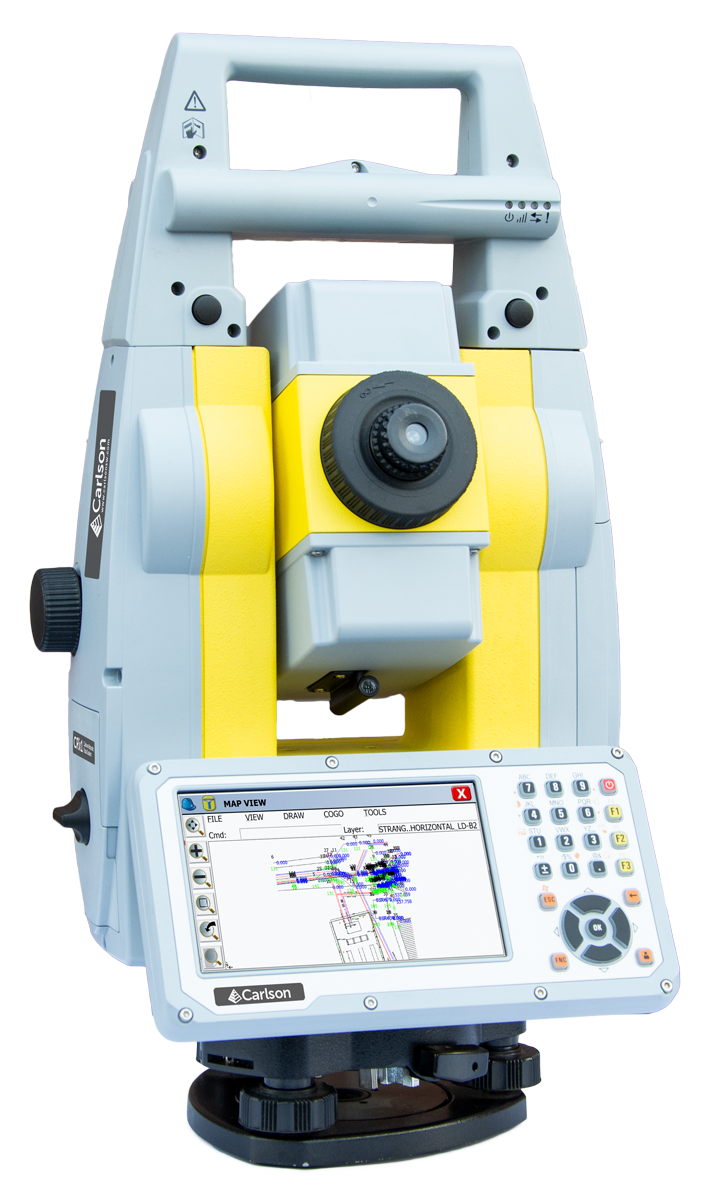 Description
Accurate land surveying is an essential part of any building or construction project. By making sure that all measurements are precise and correct, it helps to ensure the safety of both workers and the public by reducing the number of potential hazards, as well as ensuring that projects meet local regulations and codes.
Additionally, accurate land surveying can help save time and money by mitigating risks associated with legal disputes due to incorrect measurements or boundary lines. It also helps in avoiding costly delays in construction schedules caused by inaccurate plans.
Therefore, it is clear why accurate land surveying plays a crucial role in the successful completion of any large-scale construction project.
However, not all surveying stations are as reliable as you may wish. When you want a high-quality surveying tool, look no further than the Carlson CRX1 500 Robotic Station from The Carson Guy.
Carlson CRX Series Robotic Total Station
This station is the perfect choice for large-scale projects that require highly accurate survey measurements. Moreover, it can easily manage a wide variety of tasks including topographic mapping, stakeout layout, boundary surveys, and much more. You can read more details about this station above.
Choose Our Robotic Total Station
The Carlson CRx3″ 500 Robotic Station is the ideal choice for any construction or building project. With its advanced features and accuracy, you can rest assured that all your survey measurements are accurate and reliable. Plus, it also comes with excellent customer service and technical support so you don't have to worry about having any problems while using the station.
Make sure you get the best surveying equipment today from The Carson Guy. With our equipment, your project planning will be more comprehensive. Order yours today or contact the team at The Carlson Guy to learn more about our products.